PersistIQ + Y Combinator
The email automation tool that will add 📈 to your Demo Day slides
We're a YC company ourselves so it feels only right to give the best deal possible to our fellow alum!
After signing up, Intercom us using your YC company email and we'll apply a 20% discount!

What makes PersistIQ better?
PersistIQ has the most intuitive UI
Achieve mastery in minutes. A system that's easy to navigate. Designed to save your team 10 hours/week.
"We spent too much time trying to work around constraints in other products, which meant less time working on content & sending actual emails."
PersistIQ has zero onboarding complexity. Zero bloat.
Sales automation tools are terrible. We know that. They are clunky and slow. Your sales team hates them. And instead of solving problems, they become the problem. 

So we did something different. We took away the junk. And focused on the key features your team actually uses day-to-day to prospect, stay organized, and move deals forward.
Save 1-2 hours daily
Zero bloat means we save your sales team time by perfecting the features they actually use: Templates, one-click access, and programmatic variables.
We do these better than everyone else.
Plug-and-play integration
PersistIQ fits into your existing workflow with just a few clicks.
Plug-and-play integrations include Salesforce, ProsperWorks, Datanyze, Docsend, Chilipiper, LeadGenius, Zapier and hundreds more.
PersistIQ is self-serve.
The best part? Try PersistIQ for free.
Get started with a 14-day free trial

"We chose PersistIQ because it had the feature set we needed, it was easy and intuitive to use, and it was at the right price. Our reps have not only gained precious hours back in their day, but they now have autonomy and flexibility."
PersistIQ makes your sales emails more personalized. At scale.
The key to better response rates is relevancy and personalization. You need to sound like a human, not a robot.
With PersistIQ, you send better, more effective emails — emails that are personalized and error-free. Without any extra work on your end. That's what you really care about.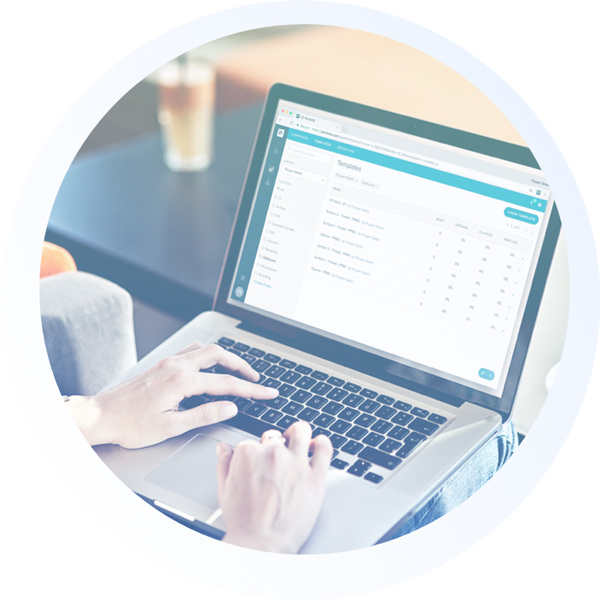 PersistIQ is built to make these roles happy.
Salespeople (SDRs/AEs/AMs)
Stay organized, personalize your emails, make more calls, and get more done. PersistIQ eliminates the tedious parts of sales and makes the important work easier to do.
We built a modern interface for people who hate traditional sales tools. We hate 'em too. That's why we made PersistIQ simple and with just the right amount of automation — to makes sales work less of a pain.
When you decide on a tool, don't decide based on features. Decide based on the tool's attention to detail and ease of use. Your team deserves it.
Remember, your team won't fully adopt a tool they don't like using. Sales managers who carefully compare sales tools decide on PersistIQ.
PersistIQ features built-in integrations with Salesforce and ProsperWorks to keep your CRM clean and up to date. Plus, your reps can work directly from the CRM.
We also give you complete customization control to make PersistIQ fit your workflow needs. And you'll love the safety check rules and deduplication.
Centralize all your communication to prospects and make it personal. Run targeted inbound and outbound campaigns seamlessly. Send messages on behalf of team members. Duplicate email templates and campaigns, oversee emails, communicate with your sales team easily and much more.
"I knew the PersistIQ team were all experts in sales, and they built a great product that was effective and easy to use. Campaigns are easy to set up, and they made integration with our Salesforce instance easy."
What's the purpose of a sales engagement system?
Most sales teams use disjointed and clunky tools. It's a crowded market and there's a reason why PersistIQ stands out; We're simple.
That doesn't mean sacrificing functionality. We simply focus on features that matter and make them great. We work harder at it than anyone else.
Reaching more prospects usually means more manual work to keep records updated and organized. You shouldn't have to make this tradeoff and now you don't have to.
PersistIQ automatically updates your CRM, changes prospect status based on interactions, removes duplicate records, prevents you from making big mistakes, lets you share email templates, campaigns, folders, and so much more.
With PersistIQ you can find new prospects anywhere on the web and add them to your communication campaigns without switching tabs and breaking your flow. And our CRM sync automatically adds them to Salesforce or ProsperWorks for you.
PersistIQ's streamlined workflow means you reach out to and talk to more prospects, regardless of how you define scale.
Not all automation is good automation. PersistIQ has just the right amount in just the right places. No other sales engagement system gives you the flexibility to make changes on the fly while still benefiting from automation to get more done.
Whatever your preferred communication channel is (email, phone, social, etc..), make it happen with PersistIQ. And our smart safety features watch your back so you don't make embarrassing mistakes.
PersistIQ eliminates the tedious parts of sales and makes the important parts easier so you simply get more done each day.
Salespeople using PersistIQ save on average 2 hours each day compared to how they worked before. No more logging to CRM. No more planning who to follow up with. No more cleaning duplicate records. No more switching tabs to research a prospect and then reach out.

"PersistIQ is extremely intuitive, and the workflows are so smooth. It lends itself to really strong sales behavior. Anyone doing any kind of outbound should be using PersistIQ."
See the world's best sales
engagement system
Get started with a 14-day free trial